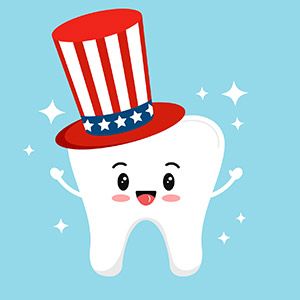 Every Fourth of July, we Americans celebrate the day we declared ourselves an independent nation. Amid the fireworks and cookouts, it's also a time for renewing our commitment to live freely and pursue our own path of happiness. This Independence Day, why not add another pledge for you and your family: freedom from dental disease.
Alas, too many Americans are under the tyranny of tooth decay or gum disease, the two dental diseases most responsible for teeth and gum damage. Ninety percent of all adults experience some form of tooth decay by age 40. And half of the population will have had at least one gum infection by age 30, swelling then to 70% by age 65.
Both diseases also have the same worst case scenario: tooth loss, something that could impact your overall health and nutrition, your appearance and certainly your wallet. But neither of these harmful conditions has to happen—you and your family can be free of dental disease by consistently following these guidelines.
Brush and floss daily. The root cause for all dental disease is a thin film of bacteria and food particles on tooth surfaces called dental plaque. But removing daily plaque buildup by brushing and flossing drastically reduces your disease risk. A daily oral hygiene routine is the single best thing you can do to avoid dental disease.
See your dentist regularly. Twice-a-year dental visits further enhance your chances of healthy teeth and gums. Dental cleanings remove plaque and tartar (hardened plaque) you may have missed. It's also more likely your dentist will detect dental disease in its earliest stages, which leads to early treatment that minimizes long-term damage.
Eat a tooth-friendly diet. The foods you eat can affect your dental health, for good and for ill. Diets heavy in refined sugar and other processed foods are a veritable feast for harmful oral bacteria. On the other hand, whole, unprocessed foods and dairy are rich in vital nutrients and minerals that strengthen your teeth and gums against disease.
Don't smoke. Tobacco harms your health, including your teeth and gums. Nicotine, the active ingredient in tobacco, constricts blood vessels in the mouth, which in turn lowers the nutrients and antibodies available to your teeth and gums to stay healthy and fight infection. As a result, smokers are several times more likely to develop dental disease than non-smokers.
Whether Thomas Jefferson said it or not, there's a lot of truth in the saying, "Eternal vigilance is the price of liberty." Similarly, good dental habits require a life-time commitment—but following them can keep you free from harmful dental disease.
If you would like more information on reducing your risk for dental disease, please contact us or schedule a consultation. To learn more, read the Dear Doctor magazine article "Daily Oral Hygiene."