My Blog
Posts for: December, 2020
By Jacob W. Skinner DMD, PA
December 22, 2020

It's been a rough year for all of us, but especially for Simon Cowell. The famous entrepreneur and brutally honest talent judge on American Idol and America's Got Talent underwent emergency back surgery in August after an accident on a new electric bike. But the good news is he's well on his way to recovery—and well enough in October to undergo another, less-stressful, procedure: a smile makeover with dental veneers.
This latest trip to the dentist wasn't Cowell's first experience with the popular restoration, wanting this time to update his smile to more closely resemble what he had when he was younger. He even brought along some older photos for reference.
Veneers aren't exclusive to celebrities like Simon Cowell, as thousands of people who get them every year can attest. These thin wafers of porcelain bonded to teeth can mask a wide range of defects, from chips, wear or discoloration to slight tooth gaps or misalignments. And every veneer is custom-made to match an individual patient's dental dimensions and coloring.
If you're thinking about a smile upgrade, here are a few reasons to consider dental veneers.
More bang for your buck. Compared to other transformative cosmetic options, veneers are relatively affordable, with the cost dependent largely on the extent of your dental needs. Still, dental veneers are an investment that can give long-lasting yields of a more attractive smile and even a completely new look.
Little to no tooth alteration. In most veneer cases, we need only remove a small amount of enamel so the veneers don't appear bulky (the alteration is permanent, though, so you'll need a veneer on the tooth from then on). It's also possible to get "no-prep" veneers requiring little to no alteration.
Durable and long-lasting. Continuing improvements in porcelain and other dental ceramics have led to stronger forms that can better withstand the biting forces your teeth encounter every day. Although you'll still need to be careful biting into hard items, your veneers can last for several years.
Easy to maintain. Veneer cleaning and maintenance is much the same as with natural teeth—daily brushing and flossing, and regular dental cleanings and checkups. Outside of that, you'll need to watch what you chomp down on: Veneers are strong, but not indestructible, and they can break.
As Simon Cowell knows, getting veneers isn't difficult. It starts with an initial visit so we can evaluate your dental health and needs. From there, we can present options on how to update your smile.
If you would like more information about dental veneers, please contact us or schedule a consultation. To learn more, read the Dear Doctor magazine articles "Porcelain Veneers" and "No-Prep Porcelain Veneers."
By Jacob W. Skinner DMD, PA
December 10, 2020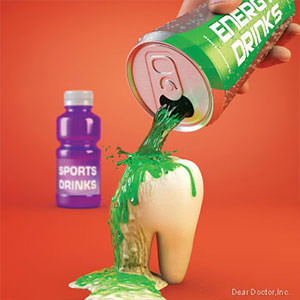 Although energy drinks are but a blip on the historical timeline compared to coffee or tea, they've displaced these traditional stimulants among nearly half of today's adolescents and young adults. But these sweetened "processed" drinks are also controversial among healthcare experts—particularly the effect they may have on dental health.
Besides the added sugar found in many energy drinks—a prime food source for harmful bacteria—many energy drinks and their cousins sports drinks contain significant amounts of acid. High levels of acid soften and erode tooth enamel, which can lead to tooth decay.
During one experimental study, portions of tooth enamel were subjected to a number of name-brand energy and sports beverages. Over the course of a few days, researchers recorded significant enamel loss, especially involving the energy drink samples.
Abstaining from both energy and sports drinks is a sound way to avoid enamel erosion (the best hydrator, it turns out, is simply water). But if you do wish to continue consuming these beverages, here are a few common sense precautions for reduce the risk of harm to your teeth.
Partake only at mealtimes. Among its many abilities, saliva is able to neutralize oral acid and bring the mouth to a neutral pH level within 30 minutes to an hour. But if you're sipping on high-acid beverages throughout the day, your saliva may not be able to compensate effectively. Drinking energy drinks only during a meal helps saliva do its acid-buffering job better.
Rinse with water afterwards. Rinsing with a little water after eating or drinking something acidic can help reduce the pH levels in the mouth. That's because water is by and large neutral on the acidic/alkaline scale. Because it's not adding more, rinsing with water dilutes any concentrations of acid that may still be lingering in your mouth.
Don't brush immediately. Brushing is essential to overall hygiene, but if you do it right after you eat or drink, you could be doing more harm than good. That's because elevated acid levels that naturally occur after consuming foods and beverages can temporarily soften and demineralize the surface enamel. Brushing could remove microscopic bits of softened enamel. If you wait an hour to brush, you'll be giving saliva time to "re-mineralize" your enamel.
If you would like more information on the role of beverage acid in dental disease, please contact us or schedule an appointment for a consultation. You can also learn more about this topic by reading the Dear Doctor magazine article "Think Before Your Drink."